M I N G N A W E N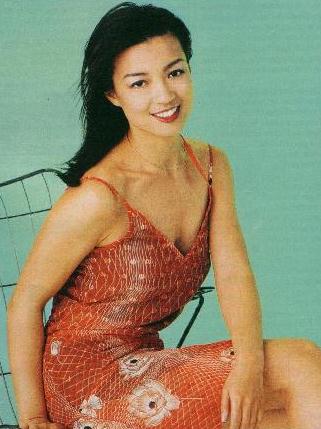 TALENTED AND PRETTY
AN ASIAN AMERICAN ACTRESS

Ming-Na Wen first won attention with her critically acclaimed performance as "June" in Wayne Wang's feature film " The Joy Luck Club," based on Amy Tan's best-selling novel. (note: the book is listed on this webpage for your benefit.) During the 1994-95 television season, millions of TV viewers came to know her for her recurring role as
the ambitious medical student Deb Chen on E.R. She had appeared as "Trudy" on The Single Guy, but has also graced the small screen on such shows as Vanishing Son (which starred Russell Wong), All American Girl (the sitcom of Margaret Cho), and As the World Turns. Additional movie credits include Streetfighter: The Movie, Hong Kong '97, and Star Quest. Other prominent projects for Ming-Na Wen included the "voice-over" role of Fa Mu Lan (the heroine of Disney's popular animated film, ( The Legend of Mulan) and a co-starring role with Wesley Snipes in the movie "One Night Stand."
The alluring Wen has also actively pursued a career in theatre, starring in Luck, Pluck, and Virtue, Speed the Plow,, and Exit the Dragon, the last of which was co-produced by Ming-Na Wen and her husband, Eric Michael Zee. Her husband recently won 1999's Image Awards from MANAA for the just-mentioned "Exit the Dragon" play - or as he described himself - "Mr. Ming Na Wen!" But to the disappointment of men everywhere, he stated that at night, he is STILL "Mr. Ming-Na Wen!"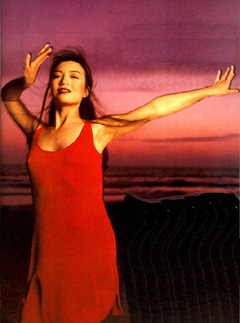 Born in Macau (an overseas territory of Portugal), she eventually immigrated to the United States at the age of 4 with her parents (Soo Lim Yee and Linchan) along with her two brothers, Johnathan and Leong.
At the age of 9, Wen moved to Mt. Lebanon, Pennsylvania (a suburb of Pittsburgh), where she graduated from high school in 1981.
She later graduated from Carnegie-Mellon University with high honors. Afterwards, she had embarked on her travels to being a beautiful and talented actress. Recently in 1999, the GOLDEN RING AWARDS recently awarded her their Anna May Wong Award for the various trail-blazing paths she has traveled in her career!
In addition, she has rejoined the cast of ER and has her own website at that you can visit by clicking HERE.
She, and her husband Michael, have recently joined the music industry with their development of the group "At Last." It will be interesting to watch the latest "boy group" addition (Asian Style) does in the immediate future, as it competes with groups such as Backstreet Boys, N'Sync and countless others in the American marketplace. Let us know what you think of these "boyz" and how they compare, especially with existing "boy groups" such as P.O.P., Devotion, Kai and others!
In addition to "ER," Ming-Na has several projects she'd like to develop, including a reality series for women she's pitching to various cable networks.
She's also talking to HBO about a film based on Japanese-American Iva Toguri, who was known as Tokyo Rose during World War II.
"She's an amazing human being and a die-hard American who was completely destroyed by the propaganda and issues that happened back then," Ming-Na said. "I'm very interested in Asian-American stories, because there's just not enough of them. We're part of America, we're not foreigners. My parents' restaurant has been in Pittsburgh for three generations."
Why did Ming-Na Wen "change" her name?
When she last appeared on "ER," Ming-Na was credited as Ming-Na Wen. She dropped Wen two Christmases ago after having a picture taken with her family -- who go by her stepfather's last name, Yee -- and her husband's family -- the Zees.
"I had the Yees on one side and Zees on the other, and I was the only Wen," Ming-Na said. "Wen was my real father's last name and it didn't fit anymore. For whatever psychological reason, I was holding onto that name, and I wanted to get rid of it. It didn't feel right to keep it for professional reasons.
"So now I'm like Ann-Margret, because she's got the hyphen, too," Ming-Na said. "I'm the Asian Ann-Margret."



Any questions regarding the content, contact Asian American Artistry
site design by Asian American Artistry
Copyright © 1996-2001 - Asian American Artistry - All Rights Reserved.
Special thanks to Vision Software